Martha Jones
The thing that makes Martha Jones shine so much compared to other NewWho companions, to me at least, is how she was the only one to deal with her end-of-season menace without superpowers.
Rose took the power of the TARDIS, became a literal deux es machina and solved everything in five minutes flat.
Donna accidentally took on the brainpower of the Doctor and solved everything in five minutes flat.
Amy had the power to reboot the universe and solved the problem of the Doctor not existing in five minutes flat.
Jack was a highly-trained Time Agent, even before he became immortal. 
Rory also dies a lot, was an Auton and retains the memories of 2,000+ years experience. 
River Song is a highly-trained child-soldier Time Baby.
Unlike most other companions, Martha had no extra-special powers beyond her own awesomeness. Her achievement was IMHO greater than the ones above because she did it solely on her own merit. It may have still only been five minutes flat onscreen, but unlike Rose, Donna and Amy all basically snapping their fingers and saying "because I say so, that's why!" her part in the Master's downfall was an entire year in the making. While her task was made easier (and by 'easier', I mean 'slightly less impossible') by the perception filter and Jack's vortex manipulator, she still spent a year telling stories in a hellish, decimated dystopia of a world. She had to give her entire species hope and faith and never lose her own, while never knowing if her family and the Doctor were even ALIVE, let alone how they were. FOR A YEAR. And this was after two months of racist, classist, misogynist humiliations at Farringham AND supporting the Doctor's arse in 1969 as well. And she does it all in style, then leaves the Doctor wanting more (finally). This is why Martha Jones is Made Of Win And Awesome.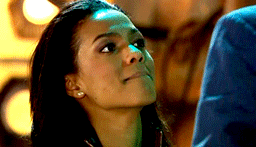 (Also, it's notable that the only other New-Who companion who gets no super-upgrades and must be content with being a Badass Normal is Mickey Smith, the other black companion.)
coral542383 reblogged this from sarah531
coral542383 likes this
alwaysatrombonist likes this
flawedfan likes this
mizgardenia reblogged this from bana05 and added:

Amen and amen this is made of awesome just like Martha Jones

mizgardenia likes this
waitloss likes this
anitaderouen likes this
evolvingeye reblogged this from bana05
bana05 reblogged this from celestialcow and added:

*coughs*

doyouunderstandthatreference reblogged this from atlasaire
frankieishere likes this
atriptothemorg reblogged this from atlasaire and added:

And in a lot of ways this only reifies the "strong black woman" stereotype. Just like in Princess and the Frog, Princess...

luckythinks91 reblogged this from atlasaire
luckythinks91 likes this
rcassie likes this
fledglingtumult reblogged this from hndwrttn
hndwrttn likes this
raisethefountains reblogged this from lupinatic
raisethefountains likes this
sittingamongstclouds likes this
fallofthestarrunningback reblogged this from strangegods
bachin221b reblogged this from songstersmiscellany
straeon likes this
theedgeofnight reblogged this from andimprouvaire
goldstarsfortulip likes this
paraprosdokia reblogged this from sirken
paraprosdokia likes this
sirken reblogged this from femme-unculus
sirken likes this
femme-unculus reblogged this from bittergrapes
theedgeofnight likes this
neonpinkmoron reblogged this from michelle-obiceps
aguhon reblogged this from andimprouvaire
darksidekitteh likes this
eldritchduchess likes this
commanderwillriker likes this
tishasbodaciousblog reblogged this from bittergrapes
chinboyandsoufflesgirl reblogged this from miiiiiiiiiiiiiiiiiiiiiiiiirianna
contracat25 reblogged this from nothing-rhymes-with-ianto
marzipansexual reblogged this from goldenheartedrose
ibuprofenforthesoul likes this
nerdykirby reblogged this from mykingdomforabeard
constellationdraco reblogged this from mykingdomforabeard
punktaire likes this
andimprouvaire reblogged this from bittergrapes and added:

I agree. Won't give credit to RTD for the BAMFness that is Mickey/Martha, but DAMN they're good.

nicholassayre reblogged this from nothing-rhymes-with-ianto